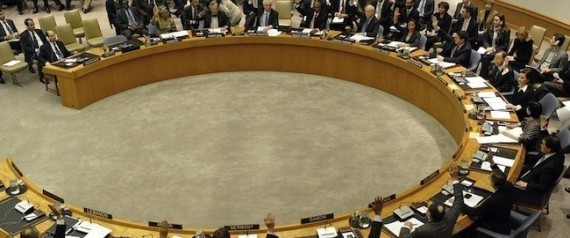 International leaders called on Muammar Gaddafi to step down on Sunday, sharpening rhetoric against the Libyan regime.
Some leaders also addressed criticism that the international community has been too slow to take action against the violence in Libya.
On Saturday, the U.N. Security Council unanimously approved sanctions against Libya, including asset freezes, a travel ban, an arms embargo, and the referral of crimes to the International Criminal Court.
Chip Pitts, a lecturer in human rights law at Stanford Law School, believes the resolution could lead to results on the ground in Libya, including the end of Gaddafi's rule.
"Gaddafi's forces now know they face real war crimes liability, and accountability in general," he told The Huffington Post. "The measures will encourage his forces and others from his side to keep defecting, thus accelerating Gaddafi's removal from power."
Below is a growing list of countries who have called on Gaddafi to step down:
United States: In a call to German Chancellor Angela Merkel, President Barack Obama said that Gaddafi's rule is no longer legitimate.



According to a White House release detailing the call, "The president stated 'When a leader's only means of staying in power is to use mass violence against his own people, he has lost his legitimacy to rule and needs to do what is right for his country by leaving now."

The direct reference to Gaddafi's rule represents a harsher message from the administration. Until Saturday, U.S. officials had stopped short of supporting the opposition movement, stating only that the Libyan people had a right to decide how they want to be led.

U.S. Secretary of State Hillary Clinton added her voice to the mounting criticism.

"Gaddafi has lost the confidence of his people and he should go without further bloodshed and violence," she said in a statement.

Britain: "It is time for Colonel Gaddafi to go and to go now. There is no future for Libya that includes him," Prime Minister David Cameron said on Sunday.

Britain has revoked diplomatic immunity for Gaddafi, his sons, and his family.

Germany: "A ruling family which conducts a war so brutally against its own people is finished. The dictator cannot stay," Germain Foreign Minister Guido Westerwelle wrote in the Frankfurter Allgemeine Sonntagszeitung newspaper on Sunday.

He added: "The EU was initially too hesitant."

France: "France's position is clear, Mr. Qaddafi must go," French President Nicolas Sarkozy said at a news conference on Friday.

Italy: "We have reached, I believe, a point of no return," Italian Foreign Affairs Minister Franco Frattini told Sky Italia television on Sunday.

Asked if Gaddafi should give up power, Frattini said: "It is inevitable for this to happen."