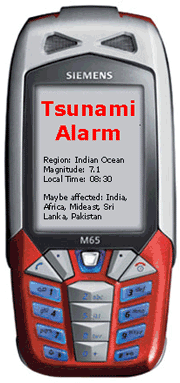 Five years on from the tsunami that battered Asia's shores, experts fear a new generation of coastal dwellers will be ill-prepared to face another giant wave as memories fade.
While sound alert systems have now been developed in many countries to forewarn governments of impending danger, getting that message out to seaside communities, and to children in particular, remains a challenge, they say.
The tidal wave that swept in on December 26, 2004 killed around 220,000 people and still haunts the beaches and coastal villages of the 12 countries devastated by the worst natural catastrophe to hit the region in decades.
But experts and officials fear that as time goes on and fear of the sea recedes, so too will the memory of what to do if another similar disaster strikes.
"Five years on, tsunami awareness is still very high. I would not be able to tell (if it will be the same) five or ten years from now," said Sanny Ramos Jegillos, crisis prevention regional director for the United Nations Development Programme.
"The reason it is difficult is that tsunamis historically don't occur in the same place within one or two generations," he explained. "The last tsunami in Sumatra before 2004 was in 1907 -- that's almost one hundred years and that's a long time for children to remember."
Since the Asian Tsunami hit five years ago, governments have made massive efforts and poured huge sums of money into improving the region's preparedness.
India spent 32 million dollars on a tsunami warning system designed to detect all earthquakes above a magnitude of six on the Richter scale in the Indian Ocean, apparently within 20 minutes.
Sri Lanka is ready to send SMS warning alerts to mobile phones in the event of a disaster, while Thailand has set up 103 towers equipped with loudspeakers along the coast and has increased its radio reach in the six provinces bordering the Andaman Sea.
But educating the population to encourage them to react efficiently and without panic in the event of another tsunami is complicated, said Al Panico, head of the International Federation of the Red Cross and Red Crescent societies' (IFRC) tsunami recovery unit.
"In the alert system, messages get to governments when a disaster is imminent. Getting it to the people who need to act... to the people who need to protect themselves, that's where there is a gap," he said.
Malaysia, hit relatively lightly in 2004 with a death toll of 68, has 17 earthquake monitoring stations. But its authorities say work among the youth is needed.
"Since tsunamis are rare and when a tsunami occurs time is limited for evacuation, public education and awareness among the population at risk are necessary," said Yap Kok Seng, head of Malaysia's meteorological department.
Indonesia, which registered three quarters of all deaths that resulted from the tsunami, is lagging behind in its efforts.
"Many Indonesians are still clueless about tsunami disaster mitigation," said Danny Hilman Natawidjaja, an earthquake expert with the Indonesia Institute of Sciences.
"The drills from the Disaster Management Agency are yet to be effective. They have a lot to learn."
The country's Disaster Management Agency said about ten tsunami preparedness drills have been carried out since 2004 but "there is still a considerable amount of delay time in the tsunami early warning system," Natawidjaja said.
The key, said the experts, will be to teach the subject in schools.
On December 26, 2004, on the southern tourist isle of Phuket in Thailand, a ten-year-old British girl, Tilly Smith, saved one hundred lives when she used her knowledge of tsunamis from a recent geography lesson to clear the beach.
Experts hope this ideal carries into Asia's schools.
"We need to continue to prepare the next generation and this cannot be done without integrating awareness into the school curriculum," added UNDP's Sanny Ramos Jegillos. (By Didier Lauras/ AFP)
MySinchew 2009.12.23