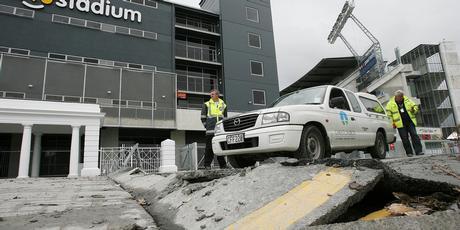 Police tonight named 12 more people who died in last month's Christchurch earthquake.
The latest announcement brings the total number of names released to 83.
The official death toll remains at 166 but police have said they expect it to go higher.
Those named tonight are:
* Dr Husam Sabar Al-Ani, 55, of Christchurch (a NZ citizen from Iraq)
* Jane-Marie Alberts, 44, of Christchurch
* Andrew James Llewellyn Bishop, 33, of Christchurch
* Beverley Faye Kennedy, 60, of Christchurch
* Kyoko Kawahata, 20, of Japan
* Philip John McDonald, 57, of Ashburton
* Deborah Ann Roberts, 39, of Christchurch
* Emma Shaharudin, 35, of Lincoln, Christchurch
* Christine Patricia (Trish) Stephenson, 61, of Christchurch
* Lesley Jane Thomson, 55, of Christchurch
* Amanda Jayne (Mandy) Uriao, 38, of Christchurch
* Julie Kathryn Wong, 37, of Christchurch (dual UK and NZ citizenship)
Late this afternoon, police also named:
* Jewel Jose Francisco, 26, of Philippines
* John Joseph O'Connor, 40, of Ireland
* Te Taki (Wally) Tairakena, 60, of Christchurch
* Hui Yun Tu, 22, of China
* Jittra Waithayatadapong, 40, of Thailand
* Sisi Xin, 28, of China.
Nervous wait for city over Rugby World Cup
The people of Christchurch remain nervous about the future of rugby World Cup games in their earthquake-ravaged city as the Government prepares to mull over engineering reports on the state of damage to AMI Stadium and its ground.
Rugby World Cup Minister Murray McCully is expecting an initial engineering report on how much damage the stadium and its ground sustained in last month's magnitude 6.3 earthquake and said a decision on whether the city could host five pool matches and two quarterfinals could be made as early as next week.
The International Rugby Board (IRB) has the final say on whether games in Christchurch will go ahead.
Prime Minister John Key in Christchurch today said the IRB was supportive and understanding of the issues the city was facing, and there was a desire to give the Government enough space to make good decisions.
"In the end, the cup has to be hosted; we have to do a good professional job of that. They (IRB) are giving (the Government) time to get through these issues and give them proper information.
"We've built up a lot of good will and capital with the IRB. They have been out in New Zealand extensively for the last few years. I've met them every time they have been in New Zealand. I think they are quite sympathetic to the issues we are facing and they will probably take some lead from us."
The ground at the stadium has been damaged after liquefaction during the February 22 quake, with silt piled up in some places. There may also be structural damage to the stadium.
Mr Key, who visited the stadium this morning, said the "turf is in a complete mess" and is in "very bad state of repair".
At Parliament tonight legislation was passed unanimously allowing a one-off provincial holiday in Canterbury so people can attend a memorial service for those killed in the quake.
The service will he held at North Hagley Park in Christchurch on March 18. The memorial will start at 12.45pm, with two minutes' silence to be observed from 12.51pm, the time the deadly quake struck last month.
Prince William will visit the city representing his mother Queen Elizabeth 2 and will speak at the memorial service.
He will also visit Greymouth to talk to the families of those killed in November's Pike River Coal mine disaster.
Meanwhile police today released the names of six more victims of the quake. They were Jewel Jose Francisco, 26, of the Philippines;
John Joseph O'Connor, 40, of Ireland; Te Taki (Wally) Tairakena, 60, of Christchurch; Hui Yun Tu, 22, of China; Jittra Waithayatadapong, 40, of Thailand; Sisi Xin, 28, of China.
The death toll remains at 166 and police have so far named 71 of the dead.
Urban Search and Rescue (USAR) spokesman Russell Wood confirmed today crews continued to look for victims while deconstructing buildings and clearing debris.
Forty-seven buildings have been cleared, teams were working at 24 and 43 remained on the list.
Mr Wood said he expected USAR work to finish on the weekend of March 19.
This morning business owners and residents were able to enter more areas of the central business district.
And Civil Defence acting controller Steve Brazier said the last of three "green zones" in the city would open to the public from 8am tomorrow.
The city has been divided into three green zones, two of which opened Sunday. A fourth zone in the northwest corner of the city centre has been reclassified to orange because of damage following recent aftershocks.
Mr Brazier said people would not be able to enter the orange zone for some weeks, and the more seriously damaged red zone remains closed.
Business owners needing essential belongings from the red zone could register at recovercanterbury.co.nz to enter from Monday.
A new group called Customer Service Request (CSR) has been set up to access unsafe residential buildings in the city's suburbs.
The teams have consent officers, buildings inspectors, structural engineers, and welfare representatives.
And Orion chief executive Roger Sutton said 5800 homes remained without power, and the southern suburbs in the city should conserve power as a contractor hit a key cable.
And people who bought tickets in last Saturday's Lotto draw contributed more than $8.2 million for the Christchurch relief effort.
Half of ticket sales from the lottery went towards the Christchurch Earthquake Appeal following a direction from Internal Affairs Minister Nathan Guy.
- NZPA